Not exactly fresh, but I guess I needed a week or so to recover.
Saturday before last, K and I did something extremely out of character—not only did we go out (which rarely happens), not only did we go to a concert (I think the last time was Suzanne Vega in August of last year), but we went to see a band we'd never even heard of: Katzenjammer.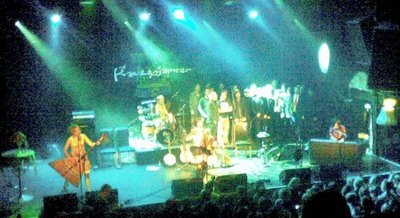 These four young women play an amazing variety of music, including such diverse genres as Western (Hey Ho, On The Devil's Back) and J-pop (Le Pop), on an amazing variety of instruments ranging from a plain old acoustic guitar through kazoos and biscuit tins to an awesome Cheshire-cat-themed bass balalaika (far left on the photo above). You can get a taste of their work on their MySpace page. They have a CD out, which you can buy on ITMS if you're not in Norway; unfortunately, it doesn't quite capture the crazy energy they display on stage.
Not sure how K liked them. They're not Depeche Mode. K is very into Depeche Mode.
Oh, and Leisha: thanks for dragging us there, but if my head explodes "while I listen to Le Pop", I will come back and haunt you.
Now if you'll excuse me, I have to go sell tickets to a funeral so I can buy tickets to Katzenjammer.