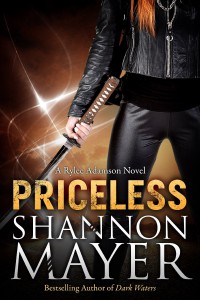 Q: How bad can a book get and still get 4.5 stars and hundreds of rave reviews on Amazon?
A: Pretty bad, if it's a shortish genre novel with a $2.99 digital list price.
I'm not a litblogger, but I do read a lot, and once in a while I come across a book which I feel so strongly about that I absolutely must share my enthusiasm or revulsion, just to get it off my chest. Shannon Mayer's Priceless, the first in a series of novels about supernatural detective Rylee Adamson, falls squarely in the "revulsion" category.