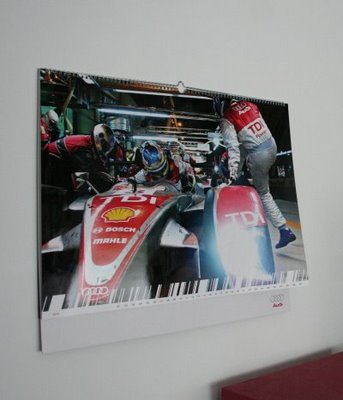 Sorry, Leisha, I just couldn't resist.
That's the only wall calendar I have. The reason why the corner curves out from the wall is that there are three large computers just off to the right, with powerful fans blowing hot air towards the wall.
The photo is of an Audi R10 TDI Le Mans prototype—specifically, Audi Sport Team Joest's #3 car that finished fourth at the 2008 24 Heures du Mans (the #1 and #2 cars placed 6th and 1st respectively)—taken during a night-time pit stop. One driver is unbuckling to get out of the car as the other rushes to replace him; meanwhile, a mechanic is refueling the car.
More car porn here.