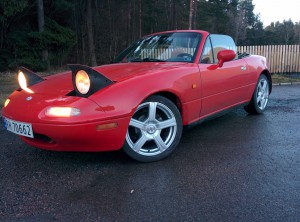 New rims¹ on my little bug-eyed baby, because one of those that came with it was bent (not noticeable to the naked eye—I only found out when I went to have them rebalanced). I also removed the spacers that a previous owner had mounted on the rear wheels. This made a world of difference. The ride is much smoother, and the car now absorbs bumps and potholes firmly instead of crashing over them.
This is basic physics. Spacers increase the mechanical advantage of the wishbone² and necessitate upgraded springs and shocks, whereas this car came fitted with aftermarket shortened springs and adjustable shocks which seem to be set to the firmest setting (I can't easily check because the adjustment knobs are missing). I also think lateral stability improved a bit, but I'm still not entirely satisfied. However, I've already blown over £1,000³ on parts, so new tires will have to wait.
I also replaced the PCV valve and grommet in the hopes that it would ameliorate the idle speed issues, but it didn't. I will probably have to refurbish the ISC valve and / or the air valve; my guess is that some of the moving parts in the air valve stick when cold. The new PCV valve and grommet should however stop aerosolized engine oil from spraying all over the camshaft cover and inlet manifold.
Next project for a rainy day: clean and polish the camshaft cover and replace the leaky gasket.
These are the downsides to buying a 22-year-old sports car whose previous owners thought they knew what they were doing…
---
¹ Martins Image Arctis 7″×16″; it's hard to find sporty rims in that dimension. I have a set of the relatively rare love-'em-or-hate-'em stock Mazda 14″ "daisy wheel" rims, but they need sanding and respraying, and the hubcaps are missing. I might just PlastiDip them for now and use them for snow tires.
² A double wishbone suspension is not a classical example of lever and fulcrum, because the effort (weight of the car on the wheel) and resistance (spring) are on the same side of the fulcrum (inboard end of the wishbone). However, the principle and the equations are the same.
³ I get most of my parts from the UK, which apparently has a *huge* market for new and used MX-5 parts.